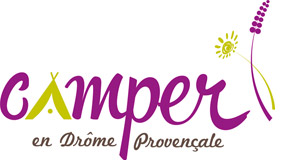 Camper en Drôme Provençale offers:
Authenticity and Nature.
Small campsites with big hearts.
All the magic of human emotions.
Camper en Drôme Provençale is an association formed of small independent campsites (120 berths max.), located throughout Drôme Provençale.
Each campsite is represented by men and women with shared values:
• Solidarity principles.
• Respect for individuals and the environment.
• Structures which form part of the local economy.
Our campsites offer holidays which are both diverse and unique, far from the beaten tracks.